You cannot add "Fronius Galvo 1.5-1 Lite" to the cart because the product is out of stock.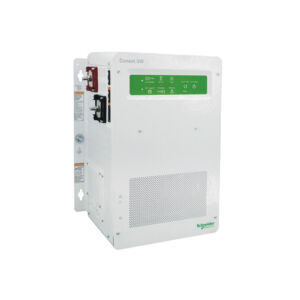 Conext SW 4048
$2,639.00
Conext SW 4048 inverter/charger,  3800 Watt, 48 VDC, 120/240 VAC single/split-phase, 50/60 Hz, 45A charger, 865‑4048
The Conext SW is perfect for off-grid, backup power and self-consumption applications. It is a 120/240V, pure sine wave, hybrid inverter system with switchable 50/60 Hz frequencies, providing power for every need. It is capable of producing 120/240 VAC output from a 120 VAC input, without the need for an external transformer. For expanded off-grid capacity, the Conext SW is integrated with fuel-based generators as required to support loads larger than the generator's output. It is also self consumption ready; able to prioritize solar consumption over the grid, while maintaining zero grid export. The Conext SW works with the grid to avoid peak utility charges and support the grid when utility supply is limited. Accessories include a pre-wired universal DC distribution panel and AC distribution panels. Stacking two Conext SW units will double the system's total output power and available solar charge controllers allow for the integration of solar capacity as required. 
Features
High performance in surge capability and charging efficiency
Advanced energy optimization configurable features with the ability to cover a wide variety of applications
Intelligent functionality enables self consumption with solar prioritization, peak shaving and, assisting small generators with heavy loads
Complete balance of system and comprehensive commissioning tools for easy-installation
Plug and play monitoring and control based on Xanbus network
Scalable to 8kW with the addition of a second unit
Simple to install, maintain and operate
Specifications
| | |
| --- | --- |
| Brand | |
| Mnfr. model | |
| Inverter type | |
| Battery Voltage | |
| Output power | |
| AC Voltage | |
| Efficiency | |
| Temperature range | |
| Weight | |
| Warranty | |