You cannot add "Fronius Galvo 1.5-1 Advanced" to the cart because the product is out of stock.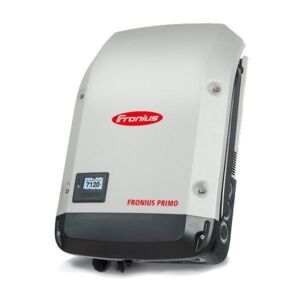 Fronius Primo 5.0-1 Lite
Call for price
DISCONTINUED: Fronius Primo 5.0-1 Lite, 5.0 kW PV 208-240V, dual-MPPT, with AFCI, 4,210,063,801
Out of stock
The Fronius Primo, with power classes from 3.8 to 15.0 kW, is the ideal residential solar inverter for your unique solar system design. With dual MPPT and a wide voltage window, the Fronius Primo offers design flexibility. The sleek inverter design features the innovative SnapINverter hinge mounting system and Wi-Fi enabled for easy commissioning and monitoring. Many other features come standard in the Fronius Primo, including industry-leading Arc Fault Circuit Interruption, and free lifetime monitoring through Fronius Solar.web. The SnapINverter line is CEC 2015 compliant with the easy implementation of the Fronius Rapid Shutdown Box and has the technology for future code and consumer demands, while offering field serviceability for the most sustainable option.
The "Advanced" Primo inverters have a datalogging card build-in and can do Web monitoring via Wifi or wired Internet connections. The "Lite" Primo inverters do not have the datalogger card and do not have Web monitoring.
Features
Transformerless design for higher efficiency
Dual-MPPT inputs
Very quick and easy installation due to Fronius' unique SnapINverter design
Integrated DC disconnect
1000 Volt DC strings capability
Very wide operating temperature from -40C through +55C
Sealed NEMA 4X housing for indoor and outdoor mounting
Can be mounted completely horizontal, for example for flat roof mounts
Specifications
| | |
| --- | --- |
| Brand | |
| Mnfr. model | |
| Output power | |
| AC Voltage | |
| No. of MPPT | |
| Max. Voltage | |
| MPPT Voltage range | |
| Efficiency | |
| AC disconnect | |
| DC disconnect | |
| Arc-fault (AFCI) | |
| Ground-fault (GFCI) | |
| Temperature range | |
| Enclosure | |
| Weight | |
| Warranty | |