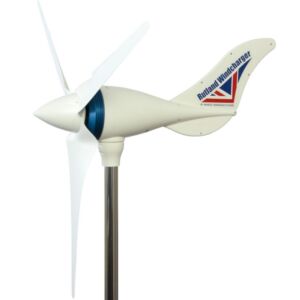 Rutland 1200
$2,154.00
Rutland 1200 Windcharger, available in 12 or 24 Volt, wind turbine, 290W @ 11 m/s, 480W max, incl. charge controller
The Rutland 1200 Windcharger, designed and made by Marlec in the United Kingdom, is a small wind turbine designed for the marine market. It produces 290W at 11 m/s (21.5 knots) wind speed, and has a maximum output of 480W at 15 m/s (29 knots). An MPPT  charge controller is included. This wind turbine is available for 12 and 24 Volt battery charging.
The Rutland 1200 Windcharger works great to generate power on board for marine use. It was designed to withstand a salt-water marine environment. This is also a good choice to power equipment at remote sites, or for an off-grid cabin. The blade profile was especially designed to be nearly silent across the entire range of wind speeds.
Marlec Engineering has been around since 1987 (!!), and has sold over 100,000 wind turbines since then. Their wind turbines are manufactured in-house.
Features
High sustained output of 480 Watt in high winds
MPPT charge controller to make the most of every wind speed
Tri-namic profile blade for powerful but quiet operation
Cut-in wind speed of just 2.5 m/s
Blade diameter of 122 cm (48″)
Rare-earth permanent magnet generator
2 year warranty
Specifications
| | |
| --- | --- |
| Brand | |
| Mnfr. model | |
| Battery Voltage | |
| Output power | |
| Weight | |
| Warranty | |