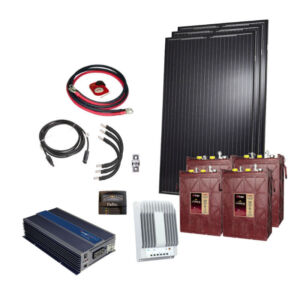 3-Panel Cottage Kit (930W)
$3,836.00
3 Panel Cottage Kit (930 Watt PV) – 2000 Watt Inverter
930 Watt in solar PV, 2kW pure sine-wave inverter.
Produces 2.4 kWh/day in summer, 1.2 kWh/day in winter
4x Rolls-Surrette S6 L16-HC, 6V deep-cycle flooded lead-acid, 445Ah/20h capacity, group L16, 3 years warranty
3x Battery interconnect 1/0 AWG, 10″
1x Blue Sea 5191, MRBF fuse holder for battery terminal mounting, 58V DC, 30 – 300 Amp
1x Blue Sea 5187, 200 Amp MRBF fuse, 58V DC
3x Hanwha Solar Q.PEAK-G4.1 310 Watt, 60-cell mono PV module, black-frame white-backsheet, MC4 connectors
1x set of MC4 Extension wires for PV module, 15′ PV-Wire
1x EPSolar – EPEver XTRA3215N-XDS2, 30 Amp MPPT charge controller, 12/24 Volt, 150 Volt DC input, with display
1x Samlex PST-2000-24, 24 VDC, 2000W pure sinewave inverter, 120 VAC 60HZ, cETL
1x Inverter cables 1/0 AWG, 7 ft (pair), flexible wire, red/black with 3/8″ lugs
1x HydroVolt battery hydrometer, Compaselect – the last hydrometer you will ever buy!
1x MidNite Solar MNBCM, battery capacity meter for 12, 24, 36, and 48 volt
All the parts needed to make a simple, yet robust off-grid power system. We supply high-quality parts that should last a long, long time. These may be small systems, but they are real off-grid systems meant for real use (in short, these are not toys). This cottage kit is not code-compliant. We can also provide a code-compliant off-grid system, designed to your needs, though those are far more expensive.
Our kits include pure-sine inverters. These produce a clean sine wave that runs all AC equipment (unlike the much-cheaper modified sine wave inverters). The inverters can provide twice as much power for a short duration, so starting motors (i.e. well pump) and compressors (i.e. fridge) is no problem.
We sell the cottage kits with 1 through 4 panels. The solar panels are the same as used for large grid-tie systems on rooftops; they are very durable (25-year warranty!) and they offer great value for money. The included MPPT controller makes the most of every light situation; even when it is overcast there is usually still lots of Amps coming into the batteries!
Wiring Diagram
Please see the PDF for the wiring diagram for these kits. The diagram is for a 2-panel kit, though the exact same principle applies for the other kits as well (there are just different numbers of panels in series). The large fuse is directly bolted to the positive side of the battery bank, and it is there as a measure-of-last-resort, to prevent the wiring from melting in case of a short circuit. All the other wires (charge controller, inverter, etc.) connect to the other side of that fuse, so those wires are protected to some extend in case of a short.


3-Panel Cottage Kit
System Sizing
What size system you need will depend on your expected daily energy use, and if this also needs to provide energy in winter. To find out how much energy you need, multiply each load in the cottage by the time it is expected to be used on an average day: A 15 Watt light bulb that is switched on for 3 hours uses 3 x 15 = 45 Watt-hours of energy (that's 0.045 kWh, a kilo-Watt-hour is simply 1000 Watt-hours). Add up all your expected energy use, and then look at our sizing table. We can help you with this.
In our southern Ontario climate the sun produces just about 2.7 kWh per average day for every 1000 Watt of solar panels, from late spring through early fall (that is just about 4 panels). In winter this will produce just about half, or 1.35 kWh per average day. This is for panels that are mounted facing south, at a 45-degree pitch angle. That angle is great if you are going to use one angle for summer and winter, if you want to optimize for one or the other, 30-degrees is optimal for summer, and 60-degrees is great for winter. The latter sheds show very well (panels produce zero, even with a dusting of snow on them, so it is essential to keep them snow-free in winter).
Daily Energy Use (per average day)
Panels
Summer
Winter
0.8 kWh
0.4 kWh
1
1.6 kWh
0.8 kWh
2
2.4 kWh
1.2 kWh
3
3.2 kWh
1.6 kWh
4
The inverter size is determined by all the equipment that you expect to have switched on at the same time (plus anything that switches on at unpredictable times, such as a fridge).
The cottage kits are sized for the most common energy needs found at small cottages. We can also design a system specifically for your off-grid home or cottage, just contact us.
Specifications
| | |
| --- | --- |
| Solar power | |
| Controller type | |
| Max. current | |
| Battery Voltage | |
| Amp-hours (20-hour) | |
| Output power | |
| AC Voltage | |