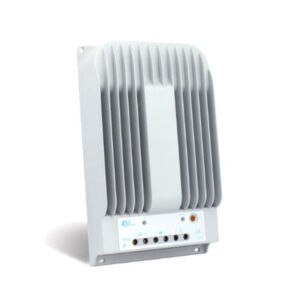 EP Solar Tracer-3215BN
$215.00
EP Solar Tracer-3215BN, 30A MPPT charge controller, 12V/24V, 150V DC
Tracer BN series is EP Solar's second generation of MPPT controller. They are an economic alternative when a solar PV MPPT controller is needed. MPPT controllers allow for the connection of solar panels that operate at a higher Voltage than the batteries, the controller takes care of efficiently converting the PV Voltage down to the battery Voltage.
The Tracer BN series has extensive communication ability, and the die-cast aluminum design ensures excellent heat dispersion. Compared to a conventional PWM controller, MPPT technology increases the charge efficiency by up to 30%, allowing for a smaller solar array and overall more energy production.
EP Solar's MPPT charge controllers respond extremely fast to changes solar light conditions, always seeking the best power point to operate the panels at. They are microprocessor controlled, supplying 3-stage charging to keep batteries healthy. An optional remote temperature sensor is available to provide automatic temperature compensation, as is an optional remote display to show the charger activity.
A load controller is built into the BN series, to provide a variety of on/off selections for lights (i.e. 'on' at dusk for XX hours, then 'off', and 'on' again YY hours before dawn, until dawn).
Features
Maximize energy harvest through Maximum Power Point Tracking, with efficiency no less than 99.5%
Ultra-fast tracking speed and guaranteed tracking efficiency
Wide MPP operating voltage range
Maximum conversion efficiency of 98%
Reliable automatic limit function of maximum PV input power, allowing oversizing of the PV array
Die-cast aluminum design, ensuring excellent heat dissipation characteristic
Multiple load control modes: Manual control, light ON/OFF, light On, and timer and time control
Supports 4 charging options: Sealed, Gel, Flooded and User
Battery temperature compensation build-in, and remote sensor optional
Real-time energy statistics function
RS-485 communication bus interface and MODBUS communication protocol
Real-time data checking and parameters setting
PC monitoring and optional external display unit connecting (MT50) for real-time data checking and parameters setting
Supports software upgrade
Specifications
| | |
| --- | --- |
| Brand | |
| Mnfr. model | |
| Controller type | |
| Max. Voltage | |
| Battery Voltage | |
| Max. current | |
| Efficiency | |
| Arc-fault (AFCI) | |
| Ground-fault (GFCI) | |
| Temperature range | |
| Warranty | |