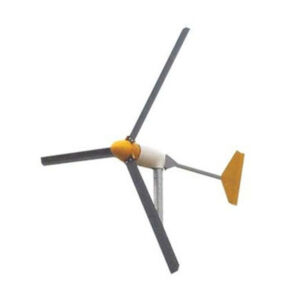 Bergey BWC Excel 1-48
$7,307.00
Bergey BWC Excel 1-48, a 1kW, 48 VDC wind turbine for off-grid battery charging, includes MidNite Classic 250 charge controller
With a rotor diameter of 8.2 ft. and a peak power output spiking over 2,000 Watts, the Excel 1 is a perfect system upgrade for current owners of solar-only off-grid systems. Following the same simple design as the larger Excel turbines, the Excel 1 has been a favorite tool for experienced renewable energy practitioners for over a decade.
The recently updated version incorporates the acclaimed American made MidNite Solar Classic 250 multi-voltage charge controller. This allows the unit to charge 12V-48V nominal battery banks.  A higher voltage stator reduces the required conductor sizing for wire runs, making installation more affordable, while a newly incorporated disconnect box makes inspections as simple as a flick of a switch.
Marine grade corrosion protection has also been added as a standard feature. BWC offers tilt-up tower solutions in heights ranging from 60 – 100 feet. Add capacity and reliability to your off-grid system with this powerful yet simple solution.
Specifications
| | |
| --- | --- |
| Brand | |
| Mnfr. model | |
| Battery Voltage | |
| Output power | |
| Temperature range | |
| Warranty | |