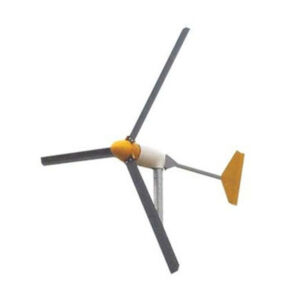 Bergey BWC Excel-6/60
$33,124.00
Bergey BWC Excel-6/60, a 6 kW, 240 VAC, 60 Hz grid-tie wind turbine with a Powersync II inverter
The Bergey Excel 5 is ideal for smaller and more efficient homes, farms, and small businesses. Its extra large rotor and ultra low cut-in wind speed give it exceptional performance.
It is equipped with the incredible Powersync II inverter (carrying a full UL certification to the latest utility standards). Using this inverter to connect to the grid, the Bergey Excel 5 can offset energy consumption to allow an efficient home, farm, or business at a moderate wind site.
The Excel 5 is most often installed on a guyed-lattice tower, which is available in heights of 18 m (60 ft) to 43 m (140 ft). Tilt-up versions of these towers are available for sites without crane access. Self-supporting lattice towers and monopoles are also available in heights of 18 m (60 ft) to 49 m (160 ft).
Features
PowerFlex® super high-strength blades
Neo-5 direct-drive permanent magnet alternator
AutoFurl® storm protection
6 kW Powersync II inverter
Specifications
| | |
| --- | --- |
| Brand | |
| Mnfr. model | |
| AC Voltage | |
| Output power | |
| Temperature range | |
| Weight | |
| Warranty | |