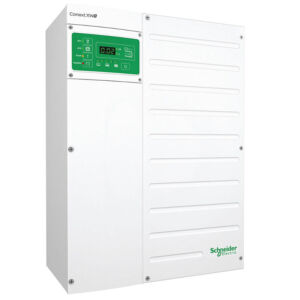 Conext XW+ 5548 NA
$4,552.00
Conext / Schneider XW+ 5548 NA inverter/charger, 5500 Watt, 48 VDC, 120/240 VAC, 110A charger, 865-5548-01
The Conext XW+ (formerly Xantrex) is an adaptable, 240V split-phase and three-phase inverter/charger system with grid-tie functionality and dual
AC power inputs. Available solar charge controllers, monitoring, and automated generator control modules enable further
adaptability. From a single Conext XW+ unit to clusters up to 102 kW, the Conext XW+ is a scalable system that allows
for the integration of solar capacity as required.
Adaptable and scalable, the Conext XW+ system is the solution for grid-interactive and off-grid systems in both residential and commercial solar projects.
Features
Performs exceptionally in hot environments (up to 70°C)
Includes load shifting, peak shaving and solar prioritization functionality
Field serviceable with replacement boards and spare parts
Easily configures into a compact wall-mounted system
Supports DC coupled and AC coupled off-grid and grid-tie architectures
Single or three phase systems from 7 kW to 102 kW
Specifications
| | |
| --- | --- |
| Brand | |
| Mnfr. model | |
| Inverter type | |
| Battery Voltage | |
| Output power | |
| AC Voltage | |
| Efficiency | |
| Temperature range | |
| Weight | |
| Warranty | |