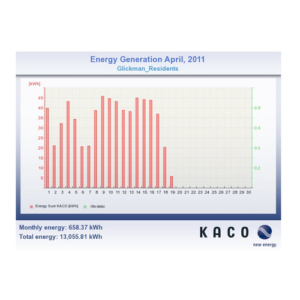 KACO Web Monitoring
Call for price
DISCONTINUED: KACO Standard/Pro Web monitoring
Out of stock
KACO offers several Web monitoring packages. Pricing depends on the version, number of inverters, and inverter types. Please contact us for pricing.
Standard Monitoring
The standard monitoring package will provide basic PV production data via the blueplanet web portal. You will see the kWh produced for the day, the week, the month and the total production of your PV system. All monitoring hardware for system sizes less than or equal to 10kW AC includes standard monitoring for five years with no cost. When the five years has ended you will be sent an email with purchasing instructions on how to continue to receive your service. This is the most affordable option for users that have purchased the KACO blueplanet 02xi series inverter with the KACO watchDOG monitoring card.
Energy output graphs include daily, weekly, monthly and annual production
Allows for integration of PV production data into company website
Technical assistance via telephone 9-5 Monday through Friday
Professional Monitoring
For the user that has more demanding monitoring needs, KACO has created the professional monitoring service. This is a fee based subscription service that is available for all system sizes. This monitoring package offers unrestricted, interactive access to your PV production data: kWh performance by day, week, month and cumulative is provided; environmental CO2 off-sets are estimated, financial benefits are calculated and displayed in an easy to understand graph, system overview data is displayed; the logo can be added with this service to provide a more personalized experience for installers who use this feature. Also, inverter events (missing data, blackouts, and low power production) are emailed to a dedicated administrator to eliminate extended periods of downtime!
Energy output graphs – daily, weekly, monthly and annual
Variance analysis graphs
Data from individual inverters or from the entire system
Production values can be exported to .csv format
Allows for integration of PV production data into company website
Technical assistance via telephone 9-5 Monday through Friday
Easily configure alarm criteria and receive email alarms