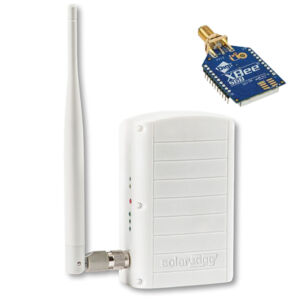 SolarEdge SE1000-ZBGW-K5-NA
$363.00
SolarEdge SE1000-ZBGW-K5-NA, Zigbee to Ethernet Gateway kit with extended range antenna & one slave module
The SolarEdge Zigbee to Ethernet Gateway kit is used to wirelessly connect a SolarEdge inverter to the internet. The Home Gateway kit can be used in place of an ethernet cable for online monitoring through the SolarEdge Monitoring Portal.
The SolarEdge Zigbee to Ethernet Gateway Kit features an improved communications range of 15 meters or 50 feet (Indoors) by utilizing an external antenna on the inverter and by using the ZigBee communications protocol.
The SolarEdge SED-ZBGW-K comes with one ZigBee slave unit and one Home Gateway. The basic kit can be augmented with additional ZigBee slave kits for multiple inverter installations and ZigBee repeater gateways for when you need to support longer transmission distances.
Features
Connects any SolarEdge inverter to a router via ZigBee wireless communication
Extended range antenna provides up to 15m / 50ft indoor and up to 250m / 800ft line-of-sight
Connect up to 15 inverters wirelessly to a single Home Gateway with additional Slave Kits (sold separately)
ZigBee cards are protected by the inverter housing to provide outdoor resilience
5 year warranty