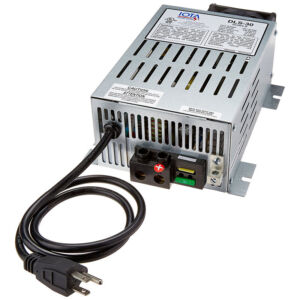 Iota DLS (12VDC)
$224.00 – $472.00
Iota DLS, 120VAC / 12VDC, 15 – 90A battery charger for generator, IQ4 smart controller sold separately
The DLS power converter/battery charger from IOTA Engineering converts 108-132 AC Voltage to 13.6 DC Volt for both DC load operation and 12 Volt battery charging. To properly charge a 12 Volt lead-acid battery bank the Iota IQ4 Smart Controller has to be added, this turns the unit into a proper 4-stage charge controller.
As a power supply, the unit's tightly controlled regulation allows the user to operate a nominal 12 VDC load up to 15 – 90 Amp, depending on the model.
As a battery charger, the unit will maintain the battery, delivering its full-rated current when the battery capacity falls sufficiently low. The Voltage is set to deliver its maximum current for the necessary period of time to minimize undue stress to the battery caused by heating of its cells. This helps to ensure the longest possible life of the battery. Over time, as the battery nears its full capacity, the DLS will automatically drop the current, providing a float-charge to the battery to prevent self-discharge of the cells.
Dual Voltage Jack
The DLS is equipped with a dual Voltage jack and dual Voltage plug that allows manual switching from a long-term float Voltage of 13.6 VDC to 14.2 VDC. When the dual Voltage plug is inserted in the jack, the Voltage increases to 14.2 VDC for occasional fast charging. When the plug is removed, the Voltage drops to 13.6 VDC to reduce battery water loss. The dual Voltage jack also allows for easy installation of an external IQ4 Smart Controller (sold separately) for automatic 4-stage charging (optional).
Features
Efficient switch-mode technology
Exceptionally clean DC output
Quickly and efficiently charges batteries
Designed to withstand transient AC line Voltage, works well with generators
Current limit and thermal/overload protection
Proportional fan control circuitry allows fan to start and stop slowly for quiet fan operation
External reverse polarity fuse protection from incorrect battery connection
Charging jack allows for normal and high-stage charging
Compatible with IOTA IQ4 Smart Controller for automatic four-stage charging
cUL listed for code-compliant use in Canada & USA
Specifications
| | |
| --- | --- |
| Brand | |
| Mnfr. model | |
| AC Voltage | |
| Battery Voltage | |
| Max. current | |
| Warranty | |