Primus AIR Breeze
$1,699.12
Primus 1-ARBM-15, AIR Breeze wind turbine for marine environments, 250 Watt, internal regulator, marine grade
A wind turbine can help keep your batteries charged in winter, when there is little sun. In fact, solar PV and wind complement each other: The days with little sun tend to be windy, and vice versa. The Primus AIR-series of small wind turbines has been around since 1995, with over 150,000 installed since! Theirs is a proven product, for a reasonable price.
The AIR Breeze produces best at low to moderate wind speeds and can work in a marine (salt spray) environment. For a high-wind environment the AIR X Marine or AIR Silent-X could be a better choice. Peak-power output is 250 Watt, and there are versions for 12/24/48 Volt battery-charging applications in coastal, desert or Arctic environments. A small wind turbine can also be a great addition to an off-grid system, to provide energy during those dark (but windy) winter days. It delivers the energy you need for communications, offshore structures, sailing or remote monitoring, to name a few. With a build-in charge controller, the AIR Breeze provides energy quietly and efficiently. The AIR Breeze is corrosion resistant, covered in aircraft quality paint with a marine grade O-ring seal and stainless steel fasteners, ensuring durability in challenging conditions. These are the official type codes:
Primus 1-ARBM-15-12: 12 Volt AIR Breeze
Primus 1-ARBM-15-24: 24 Volt AIR Breeze
Primus 1-ARBM-15-48: 48 Volt AIR Breeze
The AIR Breeze includes a stop-switch.
It is recommended to have at least a 200 Ah @ 12V, 100 Ah @ 24V, or 50Ah @ 48V battery bank size, to avoid frequent starting/stopping of the turbine. Also recommended is Primus' Digital Wind Control Panel to make it easier to start/stop the turbine, provide overcurrent protection, and show power production.
Be sure to check out the Primus Webinars to learn more about installation, wind resources, turbine placement etc. See our Site Selection page for the best place to install your wind turbine.
Please note that the Primus turbines start to protect themselves from overheating above wind speeds of around 35 mph (16 m/s). This means it shuts down for 2-1/2 minutes, then runs again for a some of time, and shuts down again, this repeats. The effect is much lower energy production for these very high (and unusual) wind speeds. This is normal, and necessary for the turbine's survival.
Features
Stop-switch included!
1.17 meter (46″) rotor diameter
3.1 m/s (7 mph) startup wind speed
Marine-grade paint, stainless fasterners
Can produce 40 kWh/month at 5.8 m/s
Can withstand winds up to 49.2 m/s (110 mph)
Mounts on 1.5″ schedule 40 pipe, 48 mm (1.9″) outer diameter
Advanced microprocessor technology for superior performance
High wind protection without mechanical braking
Lightweight design is simple and easy-to-install
Permanent mold cast aluminum body
High-quality, field tested components
Warranty 5 years
Turbine Selection Matrix
| Turbine | Location | Application | Wind | Sound |
| --- | --- | --- | --- | --- |
| AIR 30 | Land | Industrial, Oil & Gas, Telecom | High | High |
| AIR 40 | Land | Residential, Education | Moderate | Low |
| AIR Silent X | Land & Marine | Any | All | Very low |
| AIR X Marine | Marine | Industrial off-shore | High | High |
| AIR Breeze | Marine | Sailing, Residential | Moderate | Low |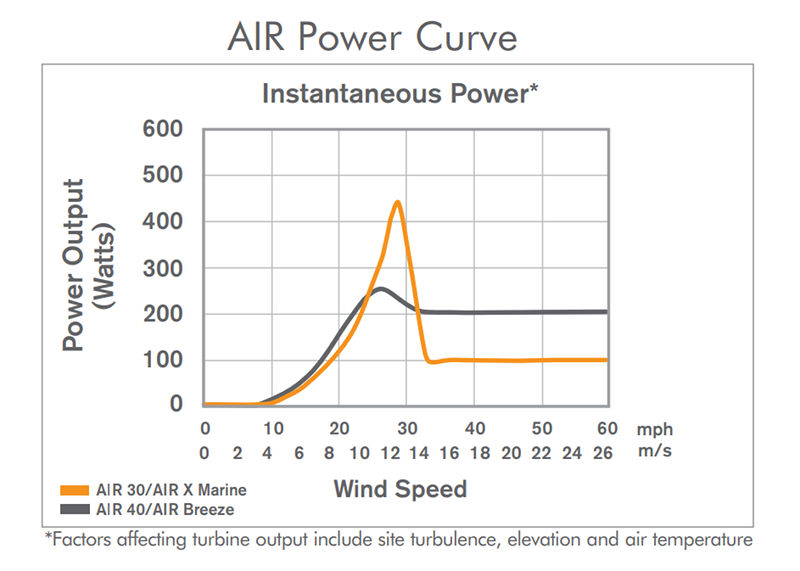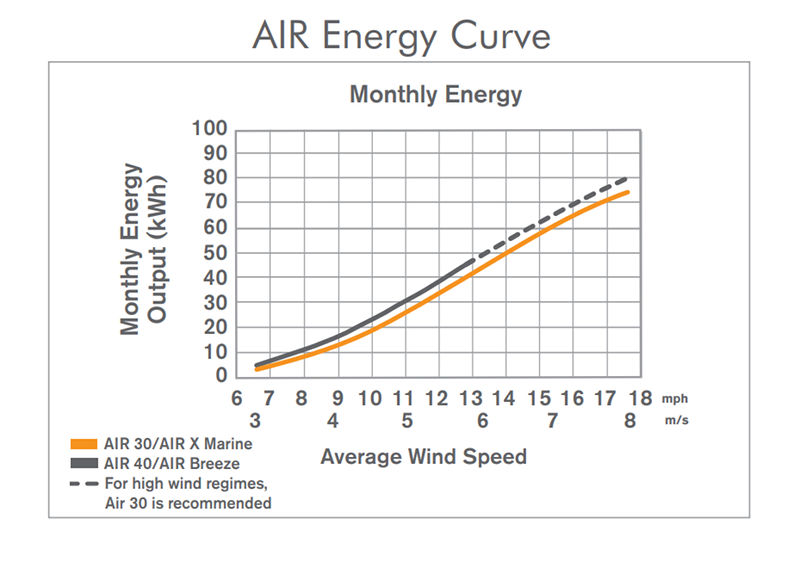 Specifications
| | |
| --- | --- |
| Brand | |
| Mnfr. model | |
| Battery Voltage | |
| Rated output power | |
| Startup wind speed | |
| Rotor diameter | |
| Rotor swept area | |
| Temperature range | |
| Weight | |
| Warranty | |
Only logged in customers who have purchased this product may leave a review.